Although it may not sit well with the fans of Manchester City, the club's defender has revealed that while growing up, he was a huge fan of Manchester United's legendary defensive duo Nemanja Vidic and Rio Ferdinand. The two former Manchester United defenders were really tough opponents and hard nuts to crack for Premier League strikers that played against them, and they held that status for a very long time.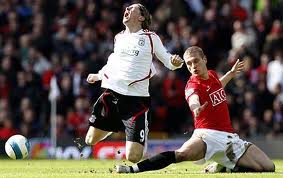 It is not every time that a player of either Manchester clubs would openly say they admired a current or former player of the other, but City defender Ruben Dias has admitted that he always enjoyed Ferdinand and Vidic so much that it was always the best part of his weekend to watch them play.
The summer signing from Portuguese league outfit Benfica revealed that both defenders used to be very strong at the back and were the bedrock of United winning a couple of titles they won years ago.
Since signing for Manchester City from Benfica, the Portuguese defender has been a mainstay at the heart of Pep Guardiola's Manchester City defense and is leading the club to a possible quadruple this season. Dias also added that he is pleased that he was able to quickly adjust to the playing pattern of the Premier League, while he also credited his quick adaptation to the fact that he watched Vidic and Ferdinand while they played.
In addition to the impact that Ferdinand and Vidic had on him, Dias also said that former City defender and captain Vincent Kompany equally played a huge role in helping him become the player he is today, alongside former Chelsea captain John Terry.
Speaking on BT Sport, Dias said his favorite part of the weekend used to be when he would tune in to watch Ferdinand and Vidic play for United and that they were his idols.